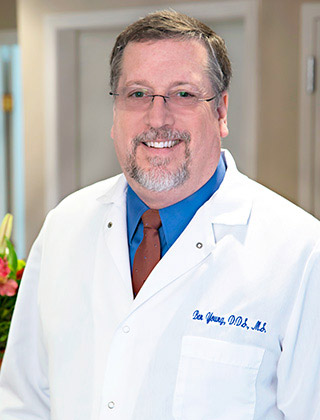 I have been a dental assistant (in high school working for my Dad), a dental student (obviously), and a general dentist with my first practice experiences as a Captain in the United States Air Force. If you want the whole story,
let me tell it to you in my Podcast
.
In 1988 I became an official periodontist having graduated from the residency program here in San Antonio while still on active duty. My first assignment as a periodontist was at Sheppard AFB, Wichita Falls, Texas practicing and teaching in an
Advanced Education in General Dentistry
(AEGD) program for newly graduated dental students. This was like the one I attended my first year following Dental School graduation. In 1993 I returned here to San Antonio to become a part of the
Air Force Periodontics Residency Program
at Wilford Hall and also to direct the Air Force equivalent to a dental hygiene school. In 1995 I was given the opportunity to retire after fifteen years of active duty at the rank of Lieutenant Colonel to make room for younger captains to join the ranks. It was a family decision to remain here in San Antonio so my two daughters could graduate from high school without having to move one more time for dad's career. As it turned out they both married their high school sweethearts and I now have two adult sons, two happy daughters, and seven grandchildren out of the deal. I stayed one more year on active duty and retired in 1996. This gave me time to begin to figure out how to enter the world of private practice. My practice began in early 1997 and at the same time, I worked part-time as an associate clinical professor at the dental school. Around 2007 I changed careers to help launch a new technology company by the name of
Voxelogix
known for the NeXsmile procedure. In 2008 we were hit by a huge recession and the investment capital necessary to grow the company dried up. Voxelogix ironically won a prestigious 
Frost and Sullivan
 award for innovation in the field of Oral Surgery just before going 
bankrupt
having been unable to obtain the needed capital to continue to grow. But all was not lost. From this experience I now practice completely differently using advanced technologies I helped to develop in Voxelogix. This includes the placement of dental implants using
3D-printed 
surgical guides designed from a patient's unique CT scan data. Around 2011 I was starting back for the second time in private practice. Interestingly, a lot had changed since 1996. Many of the conventional methods of associating with other dentists no longer seemed to work as well thanks to the massive technology changes that fueled the growth and relevance of social media. What has not kept up with change as well has been dental insurance. Out of all of these personal and social changes over the last decade, I have reimagined my own practice of periodontics and written a how-to-floss book, 
The Joy of Flossing
. You can listen to it for free or buy it on
Amazon
as either a soft-bound book or a Kindle download. In 2015 I embarked on laser training. This over one-hundred-twenty-thousand-
dollar investment in education and equipment now enables me to treat active periodontitis in less time, with less postoperative discomfort and less cost compared with conventional surgical techniques. To sum up. I am an inquisitive guy who is fascinated by the specialty I practice. I also love dentistry, medicine, science, and the humanities, and talk and write about all of them. The reason I do this is because I believe patients need more than technical procedures. They can benefit from good information and encouragement from people they choose to get to know more than just superficially. Thanks for reading this and wanting to know a little about me. If I can help you in any way, please let me know.
Dr. Benjamin Young is a Diplomate of the American Board of Periodontology. Diplomate status is granted after passing a thorough and rigorous examination on all aspects of periodontics.
Dr. Young has been featured as a Texas Super Dentist every year since 2002 in Texas Monthly magazine. In 2011 he received a Frost & Sullivan Award for cutting-edge technological innovation, as a result of his role in developing an advanced dental implant procedure known as NeXsmile.
For many years Dr. Young has been providing charity dental services as part of dental/medical missions sponsored by the Christian Medical and Dental Societies. He has taken care of needy patients along the southern Texas border, in Mexico, and in Guatemala.